The idea of these webpages is to initially build a picture of a shipwreck called the Norman Court. We are a group of divers belonging to Worsley Sub-Aqua club who in conjunction with the Nautical Archaeology Society will be surveying the current state of the wreck, starting in 2002.

We hope to build pages onto the website as we work on the wreck from 2002 onwards. We have access to a digital underwater camera and hope to be able to post pictures onto the webpage as we progress. Similarly, a plan of the site, and measurements will be added as we progress.

If anyone has any information on the Norman Court, from its construction to it's demise, that they think would be appropriate to be included in these webpages please contact me at the e-mail address below. This website does not just have to be about the wreck, but can include a complete history of the ship.

The story so far...........

The Norman Court sank on 29th March 1883 after hitting the rocks in Cymyran Bay, near Rhosneigr, Anglesey. She had misjudged her passage past Anglesey on her way from Java to Glasgow (carrying sugar), and the winds were then too strong for her to escape. The full story is told in Ian Skidmore's "Anglesey and Lleyn Shipwrecks", an extract from which appears in these pages with the authors consent.

These webpages were built by Ian James of Worsley Sub-Aqua Club.- last updated 11th Oct 2006.

Lindsey Crossley is now taking over the running of the project and will continue to maintain this site.

at..... lindsey@dive.uk.net

The wreck of the Norman Court


WANTED - any information/images that I can add to the site relating to two models of the ship believed to be on display at Baring Bros bank before it's collapse (see below for 1st two pictures). Also one model believed to be at Barings New York office.

The link for Dilys Jones contains a much more contemporary account of the ship's life and wrecking, with an addendum to the Holyhead lifeboats account of events.

The link for the 29th March is to Ian Skidmore's account of that fateful day.

The link for P.J. Salmon is to his refinding of the wreck and early dives there.

The link for Lubbock takes you to stories of the ship written by Basil Lubbock.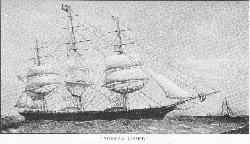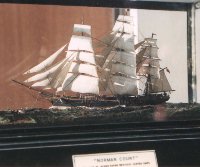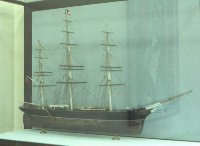 Summer 2002 update - We have visited the site several times over the last few months and I am presently compiling photographs and video footage which will appear soon. Also ships plans and other archive material. Special thanks to the following who have helped greatly on this project;

Dave Parham - for his advice, project planning, resource materials and visit to ING Barings archives.

Phil and Lindsey Crossley - for their RIB, patient surface support, and help on the wreck.

All other Worsley sub-aqua club members who have helped.

Bernie Summerfield at Ty Hen campsite - for his useful advice and excellent local knowledge.

Mike Bowyer for suggesting this very interesting project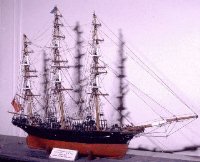 Andrew Shewan Jnr. wrote of his time at sea in "The Great Days of Sail" - Reminiscences of a Tea-Clipper Captain. This is a very worthwhile read, capturing the spirit of the heyday of the clipper ship, and giving an insight into life on these ships. It is also a snapshot of life around the 1860's and 70's. I will be extracting some of these memories, and creating a separate page for them.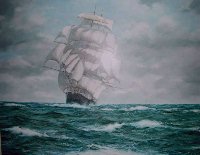 More information on these paintings and photographs can be found by clicking on the webpage link